Window Features, Benefits and Options
---
Features and Benefits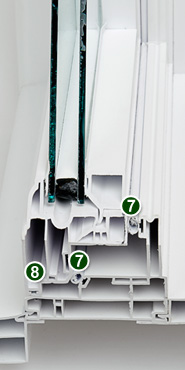 100% lead free UPVC window frames
Double Pane Thermal Sealed Unit which contain your choice of high efficiency Low E or Low E2 and Argon Gas
White gaskets prevent air from penetrating between the glass and the frame
Fusion welded corners for extra strength
New Generation Super Spacer featuring a high performance polymer upper coating, inner organic foam and a primary and secondary sealant for the highest level of energy efficiency
Sash frame features a decorative rounded colonial style finish
Refrigerator style compression seals eliminate air penetration, noise and drafts
V Groove seal prevents air and wind from entering the window between the outer frame and the operating sash
Exterior attached vinyl brick mould with decorative rounded colonial style finish
Maintenance free 100% lead free UPVC interior colonial casing trim with corner rosettes
Maintenance free 100% lead free UPVC interior vinyl jamb extensions
---
Window Frames
The UPVC window frames are extruded from pure vinyl powder resin and are manufactured to the highest standards in the industry and are guaranteed not to warp, crack, peel or rot and feature a manufacturer's lifetime warranty
Mitered frame corners are fusion welded for extra strength
Multi chambered frames provide extra strength and feature air pockets for extra insulation
Extruded Neoprene gaskets on the sash frames prevent air penetration between the frame and the glass sealed units
Sealed Glass Thermal Units
High efficiency double pane glass sealed units contain your choice of Low E or Low E² coating and Argon gas. These sealed units help retain the heat in your home during the cold winter months and reduce the heat penetrating your home during the hot summer months. Low E or Low E² coatings filter out the sun's damaging ultra violet rays, protecting your drapes, furniture, walls and floors from fading.
Upgraded ultra high efficiency triple pane glass sealed units with double Low E or Low E² coating and Argon gas are available
New Generation Super Spacer featuring a high performance polymer upper coating, inner organic foam and a primary and secondary sealant for the highest level of energy efficiency. These spacers improve the energy performance of a window by up to 30% and also keep the inside glass warmer where the glass meets the frame edge, which significantly reduces interior condensation at the lower portion of your windows in cold weather
Window Hardware
All hardware is manufactured in North America to ensure durability and the highest performance standards
Casements feature North American manufactured crank mechanisms, epoxy coated non-rusting galvanized steel locking hardware and stainless steel arms and screws. Hidden folding hideaway handles are standard on all Power Smart Casement windows.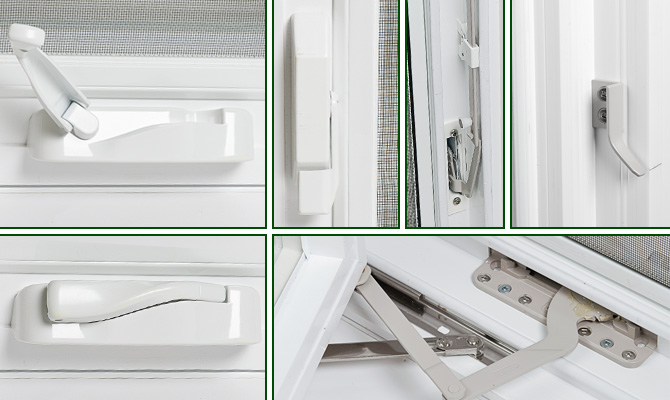 ---
Accessories and Options
Colour Options
Chocolate
Brown

Hickory

Grey

Sandstone

Ivory

White
Custom colours available upon request
---
Decorative Grills
Elegant internal grills are available in every Power Smart window to add a traditional or contemporary appearance to your home.
All grills are contained between the two panels of the sealed glass unit and they require no maintenance, stay dust free and are always secure.
The glass surface is always smooth and easy to clean.
Available in a variety of grill configurations and styles to complement the architectural design of your home.
---
Standard Shaped Grill Styles
| | | | |
| --- | --- | --- | --- |
| | | | |
| Round | Half Round | Quorter Round | Ellipse |
| | | | |
| --- | --- | --- | --- |
| | | | |
| Extended Arch | Trapezoid | Triangle | Hexagon |
---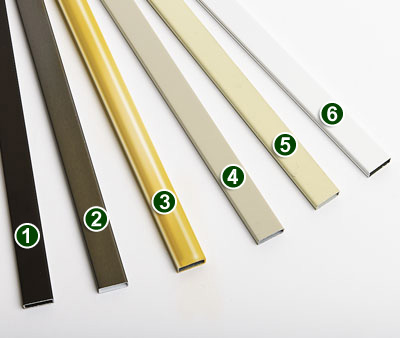 Grill Styles
5/8" Flat
Chocolate Brown
Pewter
Gold
Sandstone
Ivory
White
2 Tone 5/8" Flat
All the colours on the left are available with white on the interior of the grill
---
Georgian White ¼" x ¾"

Pencil

Pewter
White
Gold
Brass

5/16" Square

White
Gold
Pewter
---
Glass Options
Frosted Glass

Opaque or frosted glass provides privacy… eliminating the need for window coverings in bathrooms and other areas where privacy is required.

Tinted Glass

Bronze or Grey tinted glass increases privacy and lowers the heat gain in areas that are subjected to the sun in the hot summer months. Tinted glass is available in all Power Smart windows

Laminated Security Glass

Laminated glass contains a polyvinyl butyral (PVB) interlayer between two layers of glass, which form one panel of a thermal sealed unit. The interlayer keeps the layers of glass bonded even when broken, and its immense strength prevents the glass from breaking up into large sharp pieces. Upon impact, the glass will feature a characteristic "spider web" cracking pattern

Benefits:

Adds a protective element to your windows enhancing safety and security to your home's windows and doors
Filters out the majority of UV radiation
Provides acoustic insulation and reduces outside noise
---
Self-cleaning Glass
Optional Self-Cleaning Glass is available in all Power Smart windows.
How Self Cleaning Glass Works
---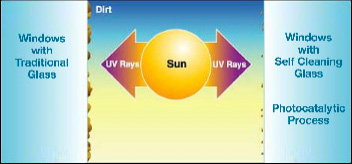 Photocatalytic Process
In a photocatalytic process, ultraviolet (UV) light from the sun energizes the exterior self cleaning glass coating to help slowly break down and loosen organic dirt. Since UV light is abundant even on cloudy days or in shaded areas, this process works non-stop throughout the day.
---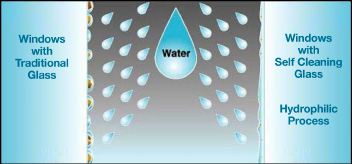 Hydrophilic Process
The coating's hydrophilic property makes water droplets spread out, or sheet, across the surface of the glass. Because of this, when rain or a light spray of water hits the window, the water helps to more effectively rinse away, dislodged dirt. This sheeting action, which works throughout the day and night, helps the window dry quickly with minimal spotting and streaking.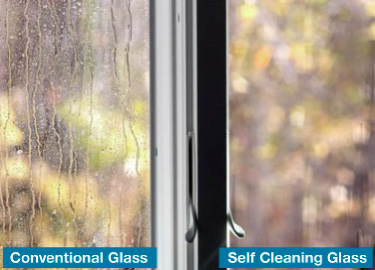 ---
Frame Accessories
Exterior

Interior Trim Options

Attached vinyl brickmould is available to compliment the appearance of the window when used in full frame "brick to brick" installation

A full range of low maintenance interior vinyl jamb extensions, casing trim and rosettes are available to enhance the interior appearance of your new windows

A comprehensive range of interior wood finishes, are also available for a more traditional appearance