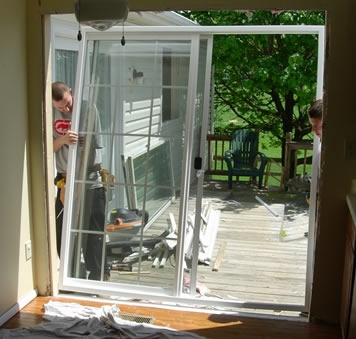 Installation:
The entire frame and sliding panels of an existing patio door system, including the interior casing trim and threshold sill are removed. The new replacement patio door including an insulated aluminum threshold sill is installed directly to the wooden frame (studs) of the house. Shims are installed between the new doorframe, threshold and the frame of the house to ensure a square fit.


Insulation:
Expanding foam insulation is inserted between the frame of the patio door and the frame of the house.


Interior Finish:
A variety of interior casing trims are available. The trim is attached to the interior doorframe.


Exterior Finish:
Exterior formed aluminum is applied to cover any exposed wood framing between the brick or siding and the new patio door frame. Caulking is applied to seal any tiny tolerance gaps between the formed aluminum and the exterior wall.